Chief Judge Lisa R. Worswick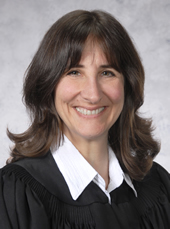 Judge Worswick was appointed to the Court of Appeals by Governor Christine Gregoire on May 3, 2010. Prior to her appointment, she served as a Pierce County Superior Court Judge for eight years and as a Municipal Judge and District Court Commissioner for five years.

At the Superior Court, she served as Criminal Division Presiding Judge. She was also a member of the Court's Executive Committee. Additionally, she chaired the Criminal Committee and the Judicial Management Committee. She has been active in legal and judicial education, having served as a dean of the Washington State Judicial College. She was a founding trustee of the state's Judicial College Trustees. She has taught at the Judicial College, and is a speaker at seminars and forums.

Judge Worswick received her Juris Doctorate from the University of Washington, and practiced civil and criminal law in King and Pierce Counties. She was a prosecutor and police advisor for the cities of Fife, Milton, Steilacoom, Roy and DuPont. She taught classes for the Reserve Police program at Tacoma Community College. She has received awards from the Washington State Traffic Safety Commission, the Pierce County Prosecutor's Office and from the Washington Board for Court Education.

Judge Worswick is active in the community, volunteering her time to Relay for Life, Paint Tacoma-Pierce County Beautiful, and Susan Komen for the cure. She judges Mock Trial competitions for the YMCA.

Judge Worswick and her husband, Todd, have been married since 1982, and live in Puyallup. They have two children.