Judge Marywave Van Deren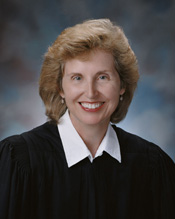 Judge Van Deren was appointed to the Court of Appeals by Governor Gary Locke in April, 2004. Prior to that she served seven and a half years as a Pierce County Superior Court Judge.
At the Superior Court, she chaired the Guardian ad litem committee, where she worked to improve services to those involved in family law and guardianship cases. She also has served on numerous court committees, including the Court's Executive Committee and the Criminal Justice Task Force of the County.
She headed the Guardianship Oversight Committee created by the Washington State Supreme Court to monitor the care of alleged incapacitated and incapacitated persons. She subsequently chaired the newly created Certified Professional Guardianship Board. Judge Van Deren also chaired the Superior Court Judges Association Ethics Committee and the Guardianship and Probate Committee for both the SCJA and for Pierce County Superior Court and served as Presiding Judge at Juvenile Court in 2003. She remains an active advocate for judicial leadership in matters related to families and children.
Before she became a judge, Judge Van Deren practiced law in both Seattle and Tacoma. She was a partner in Gordon, Thomas, Honeywell, and spent four years at Morton & McGoldrick before moving to the bench. While an attorney, she was a member of the Family Law Executive Board of the WSBA, chaired WSTLA's Family Law section, was president of the Tacoma-Pierce County Bar Association Family Law Committee, and a Trustee of the TPCBA. She has written and spoken often on family and trial issues, both as an attorney and as a judge. She belongs to Tacoma City Club, Rotary, and other civic and legal organizations, including Puget Sound Inns of Court (president-elect) and Board for Court Education - Judicial College Trustees Committee.
She received both a B.A. degree in Sociology and a Master's of Librarianship degree at the University of Washington. She worked as a professional librarian at Western State Hospital, in the state prisons, and in Pierce County as the bookmobile and homebound librarian, as well as a branch librarian for five libraries over a period of seven years. She returned to the University of Washington to complete her Juris Doctor degree in 1982.
Judge Van Deren grew up in Eatonville, Washington. Her husband, Gary Jacobson, practices law in Puyallup. Their son is a successful dot.com entrepreneur.