Acting Chief Judge Michael S. Spearman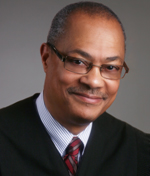 Judge Michael Spearman joined Division One of the Court of Appeals in April 2010. Before his appointment to the bench Judge Spearman provided mediation and arbitration services with Judicial Dispute Resolution. Judge Spearman was also a King County Superior Court judge for 14 years. In that capacity, Judge Spearman served in all of the court's departments, including three years as the Chief Judge of the Criminal Department, eight years on the court's Executive Committee, and two years as Assistant Presiding Judge.

Judge Spearman has also been actively involved in efforts to improve the judicial system. At various times, he has served as a member of the board of the National Center for State Courts and as a commissioner on the State of Washington's Sentencing Guidelines and Interpreter Certification Commissions. He also served on the boards of the King County Bar Association, the Washington Foundation for the Courts, Family Law CASA for King County, the American Judicature Society and Seadrunar, a substance abuse treatment program.

Prior to his judicial career Judge Spearman was a trial lawyer in the areas of criminal defense, family law and personal injury. He was a public defender with The Defender Association, where he supervised the Felony Division; the Society of Counsel Representing Accused Persons; and the Office of the Federal Public Defender. He was an associate with the firm of Adler, Giersch and Read.

Judge Spearman was born in Lawrence, Kansas and has made his home in Seattle since 1983. He holds an undergraduate degree from Brown University and a J.D. from New York University School of Law.