Presiding Chief Judge Stephen J. Dwyer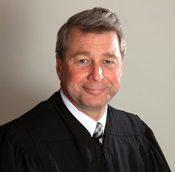 Judge Stephen J. Dwyer was elected to the Washington State Court of Appeals, Division One, in November 2005. Prior to that, in February 2004, Judge Dwyer was appointed to the Snohomish County Superior Court after serving for nine years as a Snohomish County District Court Judge. As a member of the district court bench, Judge Dwyer was actively involved in judicial governance. He served as the president of the Washington State District and Municipal Court Judges Association (DMCJA), served a three-year term on the DMCJA's Board of Governors, served for two years as the DMCJA Legislative Committee Chair, and served for two years as a member of the State Board for Judicial Administration. As a member of the superior court, Judge Dwyer served on the Washington State Superior Court Judges' Association Legislative Committee. He is the immediate past chair of the Court of Appeals Rules Committee and formerly served on both the court's Executive Committee and its Budget Committee. He is a member of both the Washington Board for Court Education and the Annual Judicial Conference Planning and Education Committee.

Judge Dwyer presently serves as the Presiding Chief Judge of the Court of Appeals (all three divisions). Previously, he served as the Chief Judge of Division One (2010-2012) and as Division One's Acting Chief Judge (2008-2010).

In 2003, Judge Dwyer was honored with the Washington State Bar Association's "Outstanding Judge" award. In 2001, he received a state "Judge of the Year" award from the Washington State Trial Lawyers Association.

Judge Dwyer graduated from the University of Puget Sound in 1979. He graduated, with Honors, from the University of Washington School of Law in 1982. From 1982 to 1984, he served at Division One as a law clerk to the Hon. Ward Williams. He was then engaged in the private practice of law for 10 years, leaving to join the judiciary. Prior to assuming the bench, he served for 11 years as a city council member in Edmonds, where his family currently resides.