Judge J. Robin Hunt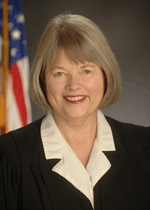 Judge J. Robin Hunt was elected to the Court of Appeals in November 1996 and took office in January 1997. She was reelected in 2002 and 2008. Since coming on the court, Judge Hunt has authored more than 1000 majority opinions and dissents. She has frequently arranged to hold court in local schools of Division Two's counties to promote greater understanding of the appellate process, providing case summaries and advance notice to the local press to encourage public attendance. She has invited TVW to record the court's oral arguments in Tacoma for broadcast on local public cable television as the station's schedule has allowed. She also co-chaired a pilot project to produce and to present summaries of oral argument cases on the court's website. For many years, she has supervised extern law students who receive credit for assisting with the court's growing workload at no additional cost to the taxpayers.

The oldest of four children, Judge Hunt was born in Massachusetts and raised in Corning, New York; Pennsylvania; and North Carolina. Her father worked for Corning Glass; her mother was a church organist and piano teacher. Judge Hunt graduated from Smith College in 1970, with a major in music, and from Wayne State University Law School in 1973, cum laude. She worked her way through law school clerking for the Detroit Public Defender and then Washington Attorney General Slade Gorton, in the education division in Olympia. After graduating, she clerked for the Hon. Cornelia G. Kennedy, United States District Court for the Eastern District of Michigan (1973-1974).

Judge Hunt began the private practice of law with Merdes, Schaible, Staley, & DeLisio, a litigation firm in Fairbanks, Alaska (1974-1975). She then worked as a contract attorney for Foster Pepper in Seattle. In 1975, newly elected King County Prosecutor Chris Bayley hired her as a deputy prosecutor in the criminal division, where she continued to serve until 1983 under the late Norm Maleng. As part of her training, she rode with law enforcement on weekend night patrols. She prosecuted all types of crimes in the trial courts, from DUI to capital murder. As senior deputy, she created a specialized appellate unit, arguing numerous cases in state and federal appellate courts. Thereafter, Judge Hunt served as Bainbridge Island Municipal Court Judge Pro Tem (1982-1993) and Hearing Examiner (1985-1996), adjudicating local land use issues and administrative appeals.

Judge Hunt was an early member of Washington Women Lawyers. Serving on the WWL's Judicial Evaluation Committee in the 1970s, she advocated including men in the interview process. She also served on the State Bar Judicial Evaluation Committee and as Trustee/Treasurer for the Seattle-King County Bar Association Young Lawyers Division. She was Chief Judge of Division Two of the Court of Appeals from 2002–2004. She currently serves on the Court of Appeals Long Range Planning Committee and on the Executive Committee of the Council of Chief Judges of intermediate state appellate courts.

Judge Hunt taught seminars for the Washington Association of Prosecuting Attorneys and the W.S.T.L.A. People's Law School for lay persons. She also lectured and studied Chinese language and law at the East China Law Institute in Shanghai. She has taught ethics seminars to help local lawyers' associations raise funds to support volunteer legal services and alternative dispute resolution. More recently she has participated in CLE judicial panel discussions about the appellate process. She frequently presents educational programs about our judicial system for public schools and community groups. She has also coached 4-H and middle school mock trial teams. In 2006 Judge Hunt received the Kitsap County Bar Association President's Award for her efforts to promote Law Day public education. She also served on the UW Fetal Alcohol Syndrome/Effect Legal Issue Resources Center judicial task force. In March 2008 she participated on a mental health court panel as part of the Northwest Regional Special Needs Conference at St. Martin's University in Lacey.

A Kitsap County resident since 1975, Judge Hunt is married to retired Navy Chief Art Schmidt. They have two grown sons. She has been active in local public schools, served on the school board and Multicultural Advisory Council, and, assisted by the local police, co-chaired a mayoral task force to repel an extremist group threatening persons of color. She performed with the Bainbridge Chorale for 20 years and local community theater. She enjoys hiking, kayaking, swimming, Curves, adventure travel, and singing with Kitsap County's MLK Community Choir, for which she received a special award in February 2008.