Judge Stephen Brown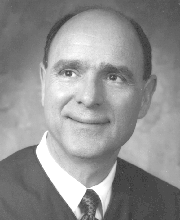 Judge Stephen Brown is a Judge of Division III of the Washington State Court of Appeals. He resides in Yakima County where he began practicing law in 1973. By appointment, he became Selah Municipal Judge in 1982, a Yakima County Superior Court Commissioner in 1983, and a Superior Court Judge in 1988. Judge Brown was elected to the Court of Appeals in 1996 and began service in 1997.
Judge Brown has taught various criminal and civil law subjects for lawyers, the courts, the public, and the State Judicial College. His special interest is juvenile justice. He helped lead the drive to erect the Yakima County Juvenile Justice Center. Before leaving the Superior Court for the Court of Appeals he organized and implemented a model truancy program with the aid of county school superintendents.
Judge Brown has served on the Washington State Commission on Judicial Conduct, the Governor's Juvenile Justice Advisory Committee, and a wide range of judicial committees.