Chief Judge Kevin M. Korsmo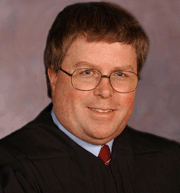 Kevin M. Korsmo was sworn in as a judge of the Court of Appeals, Division Three, on February 13, 2008.

Judge Korsmo received a Bachelor of Science degree from North Dakota State University in 1979. He graduated from the University of Washington School of Law in 1982, receiving his Juris Doctor degree with honors. After working in private practice for one year, Judge Korsmo joined the Snohomish County Prosecutor's Office, serving as a trial attorney for four years before becoming an appellate attorney. In 1990, he began working for the Spokane County Prosecutor's Office, where he handled or supervised over 2000 criminal cases in Division Three.


Judge Korsmo resides in Spokane, is married, and has four children. He is president of the Spokane Chess Club, a longtime volunteer chess coach at local high schools, and directs most major chess events in Eastern Washington.