SCOMIS Manual
[Return to Codes TOC]
---
Appeal Codes
(Used only for Criminal or Juvenile Offender cases)
| | |
| --- | --- |
| 1 | Division I Court of Appeals - Seattle |
| | |
| 2 | Division II Court of Appeals - Tacoma |
| | |
| 3 | Division III Court of Appeals - Spokane |
| | |
| S | |
---
Usage Notes
These codes are used in the Appealed To field on the Sentence screen for case type 1 and 8. The code signifies where the appeal is filed. When the Appealed To field is used, the Date field must also be completed with the date the Notice of Appeal is filed.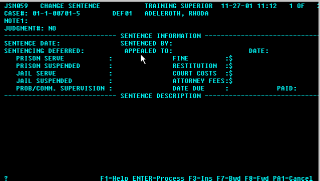 Click image to enlarge; use the browser back button to return
Entering an Appeal To code on the Sentence screen does not change case status.
Case management status changes to APP (On Appeal) when the Docket code NACA (Notice of Appeal to Court of Appeals) or NATSC (Notice of Appeal to Supreme Court) is used on any case type.