Adoptions of foster children into new families will be celebrated by courts, adoption workers, attorneys, communities and families in November as Washington prepares for its 9th annual statewide National Adoption Day celebration. These community events are open to everyone, so we hope you'll consider attending to cheer on families taking this wonderful new step forward.




National Adoption Day was founded in 2000 by a coalition of child welfare organizations and businesses working to improve the lives of foster children. The coalition wanted to celebrate adoptive families and also highlight the thousands of foster children across the U.S. waiting for new families. The goal is to spread the word that these children need homes.

Some Washington courts began celebrating individually, and then in 2005, the Washington Supreme Court Commission on Children in Foster Care sponsored the first statewide celebration in courts across Washington. NAD is also sponsored by the Dept. of Social and Health Services' Children's Administration, the Superior Court Judges' Association, the Administrative Office of the Courts, and many local and regional groups and businesses.




Everyone can be a part of National Adoption Day. Judges and court workers are needed to help plan and host events. Local officials and celebrities can volunteer to attend or help plan. Social service and adoption workers can help plan local celebrations and encourage foster and adoptive families to take part.

Members of the public can attend the events, write letters to the newspapers, and spread the word to friends and co-workers that foster children are looking for new homes.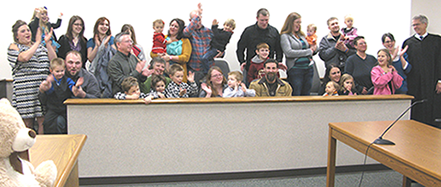 Lewis County adoptive families and Judge James Lawler (far right) celebrate following the adoption of eight former foster children into new families during Lewis County Superior Court's 2012 National Adoption Day celebration on November 16, 2012. For more photos of past celebrations, see the NAD Final Reports for recent years on this page.
Sponsored by: