Court Funding Task Force
October 7, 2002
Members present: Mr. M. Wayne Blair, chair; Mr. Jeff Amram; Ms. Cheryl Bleakney; Mr. John Cary; Commissioner Mike Chapman; Ms. Edsonya Charles; Mr. John Connelly, Jr.; Mr. David Donnan; Judge Stephen Dwyer; Mr. Tim Ferrell for Senator Kastama; Ms. Joan Ferebee; Judge Deborah Fleck; Judge Gordon Godfrey; Judge Robert Harris; Senator Mike Hewitt; Mr. Roland Hjorth; Ms. Rena Hollis; Judge Stephen Holman; Ms. Mellani Hughes; Mr. James Kirkham Johns; Representative Ruth Kagi; Judge Dirk Marler; Ms. Mary McQueen; Judge James M. Murphy; Judge Kathleen O'Connor; Judge Michael P. Roewe; Mr. Mike Runyan; Mr. Robby Stern; and Mr. Ron Ward
Guests present: Chief Justice Gerry Alexander; Mr. Doug Levy; Mr. James E. Macpherson; Mr. J. Richard Manning; and Mr. Steven G. Toole
Staff present: Mr. Gil Austin; Ms. Jude Cryderman; Mr. Doug Haake; Ms. Janet McLane and Ms. Yvonne Pettus
Welcome
Chief Justice Alexander welcomed the members. He thanked them for agreeing to participate in this important undertaking.
Chief Justice Alexander introduced Wayne Blair, chair of the Task Force.
Introductions
Mr. Blair asked the members to introduce themselves.
History
Chief Justice Alexander provided a brief history of the creation of the task force. The Chief Justice advised that the Superior Court Judges and the District and Municipal Court Judges' Associations ha requested that the Board for Judicial Administration create a task to study and make recommendations for adequate funding for Washington's trial courts.
He continued, no one was more qualified than Mr. Blair to chair the Task Force.
Chief Justice Alexander reported the steering committee adopted the following as the mission statement for the Task Force:
To develop and implement a plan to achieve stable, adequate, long term funding of Washington's trial courts to provide equal justice throughout the state.
Mission of Task Force
Superior Court Judges' Association
Judge Fleck thanked Mr. Blair for agreeing to chair the Task Force.
Judge Fleck advised that Washington ranks 50th among the states in terms of the percentage of funding provided to the trial courts by the state. She indicated the trial courts have lacked adequate funding over the past 20 years.
Judge Fleck reported over the years, many task forces, commissions, etc., have studied court funding and issues related to court funding. In particular, one of the recommendation of the Commission on Justice, Efficiency and Accountability was:
10.3 The Board for Judicial Administration should develop an overall funding strategy for the judiciary, consistent with the long-range plan including consideration of Initiative 62.
Recommendations from the Commission on Washington Trial Courts included:
4.1 The superior courts should have adequate facilities for normal operations, and should have an adequate level of security within those facilities.

4.2 The superior courts should have adequate personnel, and should be able to offer an adequate level of services to the public, including pro se litigants.
Judge Fleck identified some of the current problems:
Fails to promote equal justice
Does not maximize courts ability to operate in efficient manner
Places strain on county finances
Only .3% of state general fund spent for judicial branch
Judge Fleck continued, the Task Force should review the core functions of the courts; consider appropriate source of funding and develop strategic plan.
District and Municipal Court Judges' Association
Judge Marler stated that it is time to take a closer look at how the courts are funded. He continued, many legislative policy changes have costs or increase workloads without funding from the state, which in turn is a burden for local government.
Judge Marler reported the District and Municipal Court Judges' Association conducted a survey of its membership. Some of the problems that were identified in the survey:
Lack of adequate staff to monitor court orders and probation
Lack of appropriate jail facilities
Lack of sufficient staff to perform vital functions, i.e., update criminal history
Lack of staff to make and preserve proper records
The reduction in the number of district court locations will have a negative impact on access to justice
State policies not applied consistently
Warrants issued for FTA are routinely ignored by city and county jails
Reasons to look a court funding identified in survey are:
Look for efficient and effective justice for all citizens
Equal justice for all citizens
Fair and open opportunity to debate issues and find solutions
Washington State Bar Association
Mr. Manning stated the Bar supports the Court Funding Task Force because of the threat to the independence of the judiciary. Other reasons for the Bar's support include:
Counties are being squeezed by funding of the law and justice system
Lack of funding for adequate staff
Only 50% of Superior Court Judges' salaries are paid by the state, all other costs are paid by the counties
100% of district court costs are paid by county
The legislature, in its desire to satisfy constituents, has adopted the practice of mandating courts to perform certain tasks outside of scope traditionally handled by courts
Washington State Trial Lawyers Association
Mr. Toole reported WSTLA is committed to access to justice. He advised WSTLA has been expending much effort in an attempt to save mandatory arbitration. He continued, WSTLA's Judicial Relations Committee is available to assist the Task Force.
King County Bar Association
Mr. Cary pointed out every year the crisis is greater and greater. He indicated, the budget problems have changed over the years. In the past, additional judges were added, now additional administrative staff are necessary to assist the judges in working more effectively and efficiently.
Mr. Cary continued, court funding is a priority for KCBA, not only locally but state-wide. He said, although the answers for court funding are not clear, the process of getting there might be just as crucial as the end result.
Civil Defense Bar
Mr. Macpherson reported the Civil Defense Bar is interested in preserving the system, but they are not in a position to determine whether just efficiencies will save the system without additional dollars.
Legislature
Representative Kagi stated many legislators understand the dilemma facing the courts. She continued, the gap analysis is just one side of the problem—how to fill the gap is equally important.
Senator Hewitt reminded the members that with the passing of I-695 money was taken away from local government. In addition I-728 and I-732 cost taxpayers $800-900 million per biennium.
Others
Chief Justice Alexander advised that the courts are not an agency of state government, but are a separate branch of government—just as the legislature is.
Judge Godfrey advised that HB 2392 created a task force to study unfunded mandates. The task force's interim report was unfavorable towards the legislature's practice of not funding mandates. He continued, in 2001 the legislature terminated the task force before a final report was produced.
Judge Godfrey stated the source of court funding is under the constitution. The court system is not a pay as you go system.
The State Budget – how it works
Mr. Moore provided an overview of the budget and taxes (handouts at meeting) in Washington State. He pointed out that the general fund has semi-discretionary dollars which are collected at the state level. Forty-two percent of the general fund dollars are allocated to public schools. Eighty percent of the schools' allocation goes to salaries. He continued, only three percent of the general fund dollars goes to government operations, which includes courts.
Mr. Moore pointed out:
Human Services has experienced the largest growth—this includes services for low income
University of Washington has the most state employees
Majority of state employees are employed in King County
Mr. Moore advised the members that the state will experience between a $1.3 and $2.5 billion deficit during the 2003-2005 biennium. The group discussed the budget.
Future Meetings
The Task Force agreed to meet next in November. The members indicated that Mondays are the preferred meeting day.
Review of Washington's Court Funding Efforts
Ms. McQueen reviewed the following court funding efforts:
1972 – Citizen's Conference on Courts
". . .courts should be part of one state system and the costs borne by the state"
1985 – Judicial Administration Commission
". . . all salaries of superior and district court judges should be paid by the state"
". . . all salaries of superior court commissioners and court administrators should be paid by the state"
". . . all pro tem costs should be paid by the state"
". . .the state should pay part of indigent criminal defense"
". . .Legislature should increase civil filing fees at all court levels"
". . .adopt a process for estimating fiscal impact on local courts/government"
1988 – Judicial Council Task Force on Courts of Limited Jurisdiction
". . .Increase PSEA assessment to 100% of all fines and penalties"
". . .Adjust revenue distribution to 60% local, 40% state"
". . .State should pay ½ salaries of district court judges"
1999 – Commission on Justice, Efficiency, and Accountability
". . .the Board for Judicial Administration should develop a funding strategy for the judicial branch and evaluate state funding for mandated judicial services"
1999 – Court Improvement Act
. . .initiated by BJA
. . .at local option – state to pay costs of trial judges' salaries, expert witness fees, jury interpreter and indigent defense costs
. . .state to pay for costs of capital cases
. . .state to pay for civil legal services
. . .established court improvement account for counties that "opted in"
. . .increased filing fees, PSEA assessment, and infraction penalties – redistributed revenue between local and state governments
2001 – Project 2001
". . .a long term solution for adequate funding of the judicial system as an independent branch of government is critical to the success of court reform efforts. Finding the proper balance of shared financial responsibility between local and state government is imperative. . ."
Ms. McQueen reviewed efforts made by other states.
State

Impetus

Authority

Budget

California

Unequal justice

County fiscal crisis

Const. amendment

Local option

Base plus monthly "draw"

maximum state control

Oregon

County fiscal crisis

Statutory

Base – formula driven plus new programs

"lump sum"

maximum local control

Florida

Routine constitutional review

Constitutional amendment

"hold harmless" performance and accountability standards

Pennsylvania

Lawsuit

Court order

Implementation in flux

phase 1-175

employees
Other States' Recommendations
Continue partial local responsibility
Maintain legislative involvement
Facilities should remain local responsibility
Decide responsibility for collections activity
Decide responsibility for personnel (union contracts, retirement systems…)
State-wide automation is critical
Clarify how court revenue will be distributed
Functional approach to state funding works best
Litigation is a treacherous solution to the court funding problem
Court System Expenditures and Revenues
Ms. McLane reviewed the following materials.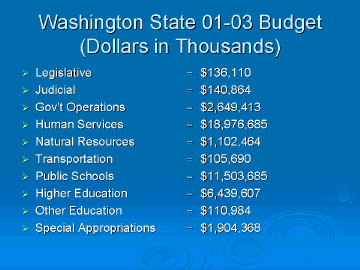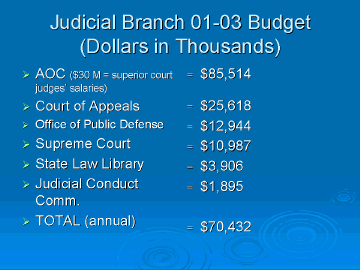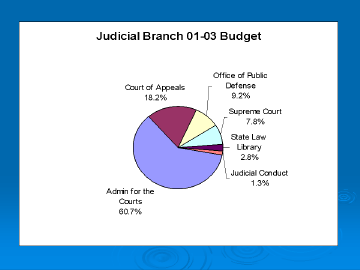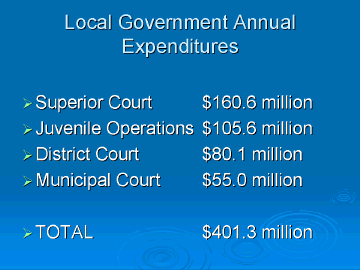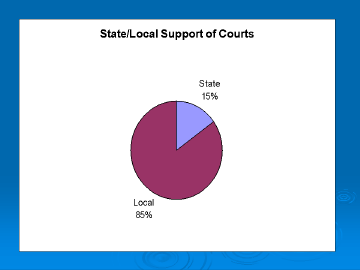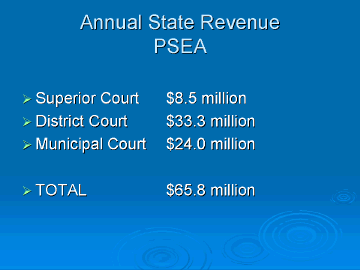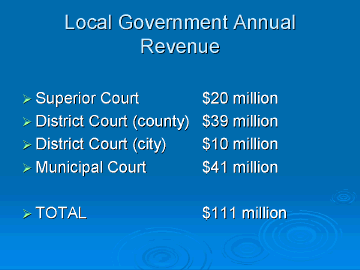 Work Plan
Mr. Blair explained the first and second meetings would focus on the current court system, i.e., revenue, revenue distribution to state/counties/cities.
Possible questions to be for the task force to ask are:
What might the court system look like?
What services should be available?
How many judges should there be per court level?
Mr. Blair continued, the Commission on Justice, Efficiency and Accountability attempted to define the "core mission" of the courts, along with establishing minimum standards for courts. The Project 2001 group conducted a major effort to identify ways in which the courts might be more effective and efficient. Mr. Blair continued his overview of the work of the Project 2001 Committee.
The group continued discussion relating to the work plan. Additional information was requested relating to the expansion of PSEA—what has changed since inception in terms of additional groups getting money from PSEA funds. In addition, presiding judge and court administrators will be asked to provide budget information based on needs, not wants of the courts.
The Task Force agreed it might be helpful to have the court administrators and county clerks identify those responsibilities they are doing now, but with a little additional funding they could do better. They also agreed examples of unfunded mandates from the SCJA and DMCJA would be helpful. The group agreed that they should not just define the problem, but define solutions.
Other Business
There being no further business, the meeting was adjourned.