Justice Tom Chambers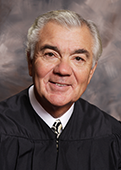 Justice Tom Chambers was raised in Wapato, Washington. He attended Yakima Valley Community College, Washington State University, and the University of Washington School of Law. He received his J.D. in 1969.
Justice Chambers was elected to the Washington State Supreme Court in 2000 and re-elected in 2006. Prior to joining the court he enjoyed a distinguished legal career and earned a reputation as a preeminent trial lawyer. He was awarded the Trial Lawyer of the Year Award in 1989 by the Washington State Trial Lawyers Association and in 1996 by the American Board of Trial Advocates. In 2006, Justice Chambers was named Outstanding Judge of the Year by King County Washington Women Lawyers.
Justice Chambers served as president of four statewide lawyer organizations, including the Washington State Bar Association. Justice Chambers has published over 100 articles, authored a two-volume book entitled Tom Chambers Trial Notebook, and has written and produced two instructional video tapes. He speaks across the state to high schools and community groups about the law and the judiciary.
Justice Chambers and his wife, Judy, have actively given back to the community. In 1999, they received the Good Neighbor Award for 20 years of commitment and service to the residents of Seattle Public Housing. Judy volunteers her time internationally doing humanitarian work through International Smile Power Foundation. Justice Chambers serves as an honorary member of the Rise n' Shine Foundation Board (a foundation dedicated to the children of parents who have contracted HIV/AIDS), and is a past board member of the United Way of King County and Providence Seattle Medical Foundation. He received the Boss of the Year Award from the Greater Seattle Legal Secretaries Association. Justice Chambers received the Distinguished Alumnus Awards from the University of Washington School of Law and from Yakima Valley Community College. Justice Chambers enjoys flying, scuba diving, automobiles, and motorcycle riding. More information is available at www.tomchambers.com.