Welcome to Jury Duty!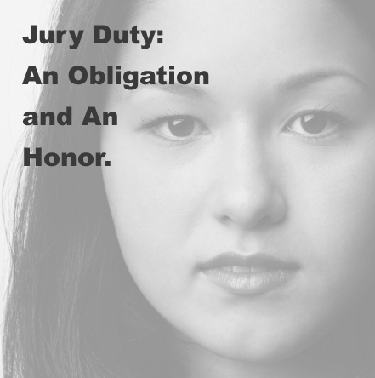 Washington State jurors, this site is for you. The links below will take you to a wide range of general information about jury service. We hope you find it helpful.

"The American system of trial by jury is unique. No other nation relies so heavily on ordinary citizens to make its most important decisions about law, business practice, and personal liberty--even death. Ideally, Americans take their participation seriously lest they someday stand before their peers seeking justice."


-Stephen J. Adler, journalist and author.
"Failure to Appear" -

JURY SCAM ALERT

Frequently Asked Questions (FAQ)
Do's and Don't for Jurors
Information for Employers
Jury Service Improvements
Links to Local Juror Sites
About Washington Courts
Glossary of Terms
A Juror's Guide
New Juror Orientation Video
"Make a Difference - Jury Duty in Washington" is an 18-minute juror orientation video that provides prospective jurors an understanding of the jury system. Click here to purchase DVD or VHS formats, both of which include closed captioning. Copies are $15.00, which includes tax, handling and postage.