Justice Sheryl Gordon McCloud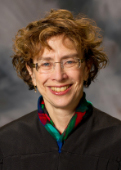 Justice Gordon McCloud brings a strong background in appellate experience to the Washington Supreme Court. She has handled hundreds of cases before this Court and other appellate courts, including the Ninth Circuit and the U.S. Supreme Court.
Her expertise, especially in appeals, is recognized by her peers; they have awarded her the Washington Association of Criminal Defense Lawyers' highest award, its William O. Douglas Award, for "extraordinary courage" in the practice of law. She is an invited member of the American Association of Appellate Lawyers and is a founding member of the Washington Appellate Lawyers Association, both of which limit membership to the most accomplished appellate lawyers.
In addition, she has provided amicus or "friend of the court" briefs to appeals courts on topics ranging from pregnant workers' disability leave rights to fairness in the criminal justice system. She has served in leadership positions involving appellate work in both the Washington Association of Criminal Defense Lawyers and the National Association of Criminal Defense Lawyers for years. Her work shows a commitment to constitutional rights, to gender equality, and to fighting against race discrimination.
Justice Gordon McCloud's talents in those areas have also been recognized by courts and law schools. For example, she has served on the Supreme Court's Pattern Instructions Committee preparing jury instructions for statewide use; she has served on federal court committees including as an invited Lawyer Representative to the Ninth Circuit. She has been an adjunct Professor of Law at Seattle University School of Law, teaching classes on a variety of topics including appellate advocacy. She has also taught practicing lawyers and published articles on appellate advocacy, criminal defense, constitutional law, and post-conviction work.
Further, Justice Gordon McCloud brings with her a commitment to keeping the courtroom doors open to all, regardless of how much money they earn. She was a public defender at the beginning of her career - trying scores of cases for people who could not afford a lawyer - and continued to accept public defense appointments throughout her years of private practice. She has also donated innumerable hours to other volunteer legal work.
Justice Gordon McCloud graduated as the salutatorian from Springfield Gardens High School in New York City in 1972. She graduated from the State University of New York at Buffalo in 1976 and, after working at factory and office jobs for five years, attended law school. She graduated in the top 2% of her class from the University of Southern California Gould School of Law in 1984. She then clerked for Ninth Circuit Court of Appeals Judge Warren Ferguson before beginning her practice.
Justice Gordon McCloud and her husband Mike have lived in Kitsap County for over 25 years, and they raised their two sons there. She has followed in the footsteps of her father (of blessed memory) - who was a physical education teacher - by enjoying a variety of sports over the years, including biking, jogging, skiing, rollerblading, dancing, boxing, and all the activities at the Bainbridge Island Sportmen's Club. Her community volunteer activities have ranged from serving as an art docent and docent coordinator in the public schools to helping her older son organize a successful fundraiser to help combat gynecological cancer.