Justice James M. Johnson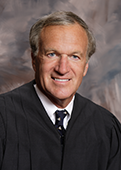 Justice Johnson was first elected to the Washington State Supreme Court in 2004. He is a life-long Washingtonian, born in Seattle and attending Ingraham High School. Justice Johnson graduated from Harvard University with a B.A. in economics and obtained his J.D. from the University of Washington.
He spent two years in the United States Army, Ninth Infantry Division, including serving as that Division's Top Secret control officer and Dive Team commander.
Justice Johnson next spent 20 years serving as a Washington State Assistant Attorney General, heading first the Fish and Wildlife Division and later the Special Litigation Division with responsibility for legal services to 25 state agencies and for major litigation involving the state. He served as Counsel for the Environment and personally tried major cases involving power dams and nuclear facilities to protect fish and wildlife. Also of high importance were elections-related constitutional cases, many of which went to the Washington or United States Supreme Court.
Upon leaving the Attorney General's Office in 1993, Justice Johnson enjoyed a successful private practice in Olympia, where he practiced until his election to the Supreme Court. His private practice specialized in major litigation involving constitutional law, notably many of the important Initiative cases. Throughout his legal career, Justice Johnson has argued nearly 100 appellate cases in three different federal Courts of Appeal, the Washington Supreme Court and Washington Court of Appeals, and the United States Supreme Court. The initiative he wrote for the Grange allows Washingtonians to vote for any candidate without being restricted to one political party (most other states restrict voters to one party). The initiative was upheld by the United States Supreme Court.
Justice Johnson and his wife Kathleen live in Olympia. They have two daughters, Heather Swanson is a school principal in Seattle and Stephanie has returned from New York to continue her high-tech work in Seattle. One skill from his Army days he still enjoys is scuba diving, and he and the family have traveled much of the world. His other hobbies include sailboat racing, cycling, hunting, and the opera.