Associate Chief Justice Charles W. Johnson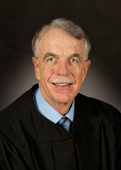 Associate Chief Justice Charles W. Johnson began service on the Washington State Supreme Court in January 1991, and is the longest serving justice on the court. Justice Johnson was born in Tacoma, attended Curtis High School near Tacoma, and graduated from the University of Washington in 1974. He graduated from the University of Puget Sound School of Law (now Seattle University School of Law) in 1976, working his way through law school at a Tacoma lumber mill.
Justice Johnson remains active at Seattle University School of Law, where he is a Distinguished Jurist in Residence. He was an adjunct professor at Seattle University School of Law from 1995-2010, teaching a comprehensive seminar on state constitutional law. He also taught courses on the federal constitution, legal writing, oral advocacy, and brief writing. Justice Johnson, in conjunction with the Seattle University students, authored a comprehensive article on Washington search and seizure law in 1998 and 2005. He teaches and lectures throughout Washington State at law schools, universities, community colleges, high schools, and community organizations. He has received national recognition for his contribution to legal education, being awarded the 2012 John J. McAulay Legal Educator Award based on his dedication to the principles and ideals of integrity, compassion, courage and professional service.
Justice Johnson participates generously in law-related, professional, and community activities. He has served as co-chair of the Washington State Minority and Justice Commission since 1994, and he co-chaired the 2004 Task Force on Civil Equal Justice Funding. He has served as chair of the Washington State Supreme Court's Rules Committee since 1996. Justice Johnson has also served as a member of the Board of Directors of the Washington Association for Children and Parents and the Visiting Committee of the University of Washington School of Social Work. He has been a member of the World Affairs Council and City Club of Tacoma.
In October 2002, Justice Johnson received a special commendation from the Washington State Bar Association's Committee on Legal Services to the Armed Forces for his outstanding service and contribution to the Armed Forces stationed in Washington State by supporting a rule allowing military lawyers, not licensed in Washington, to provide in-court representation to eligible low income service members. In May 2011, he received the Washington State Bar Association's William O. Douglas award for his years of judicial service. He has been presented with the Star Award, the Liberty Bell Award, and the Public Service Award by several organizations. Justice Johnson was also awarded the Distinguished Law Graduate from Seattle University School of Law and the Dedicated Service Award from the American Bar Association.
Justice Johnson is dedicated to supporting educational opportunities for disadvantaged children and youth. He is the cofounder of and maintains the Justices' Scholarship to the Hispanic Academic Achievers Program that provides scholarships to eligible students in the Tri-City area. He and his wife support other educational efforts of organizations including Auburn and Tacoma Rotaries, and scholarship programs at the University of Washington, Washington State University, and Tacoma Community College.
Justice Johnson and his wife are committed to public service and supportive of civic organizations including American Heart Association, YMCA campaigns, Tacoma Community College, University of Washington Foundation, Tacoma Rescue Mission, Olympic Wildlife Rescue, Children's Home Society, Washington State Law Enforcement Memorial, Peninsula School District, Boys and Girls Clubs, Washington Trails Association, Pierce County Food Banks, and the Lions Club.
He and his wife, Dana, live in Gig Harbor. Their interests include sailing, hiking, climbing, downhill skiing, biking, traveling, and reading.