Justice Susan Owens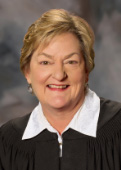 On November 7, 2000, Judge Susan Owens was elected the seventh woman to serve on the Washington State Supreme Court. She joined the court after serving nineteen years as District Court Judge in Western Clallam County, where she was the County's senior elected official with five terms. She also served as the Quileute Tribe's Chief Judge for five years and Chief Judge of the Lower Elwha S'Klallam Tribe for six plus years.

Justice Owens was born and raised in Kinston, North Carolina, where she graduated from high school. Her father, the late Frank Owens, was a small town general practitioner, and her mother, Hazel, is a retired law enforcement officer. She attended college at Duke University. After graduation in 1971, she attended law school at the University of North Carolina at Chapel Hill, receiving her J.D. in 1975. She was admitted to the Oregon State Bar in 1975, and the Washington State Bar in 1976.
Justice Owens was active in the District & Municipal Court Judges' Association for many years. She was President-Elect of DMCJA prior to her election to the Supreme Court. She previously served as Vice President, Secretary-Treasurer, and Board member. She served on the Long Range Planning, Diversity, Conference, and Education committees. In 1990, she was co-founder and Chair of the Rural Courts Committee, and has taught that subject at the Judicial College. She is extremely proud to be a member of that most important judiciary.
Justice Owens is passionate about domestic violence issues that impact children, and judicial education in that area. She has been a national trainer in that subject. She has trained judges from Anchorage to Albuquerque, and participated in the writing of the Northwest Tribal Judges Domestic Violence Manual. She has lectured at the National College of Prosecuting Attorneys' Domestic Violence Conference. She is committed to ongoing efforts in this very important area of law.
Justice Owens serves on the Rules Committee, the Bench-Bar-Press Committee, and the Board for Judicial Administration. She is the Court's chair for the Fall Judicial Conference. She also serves on the Washington State Bar Association's Leadership Institute Advisory Board and the Committee on Public Defense.
Justice Owens loves baseball, and her children-Sunny and Owen and daughter-in-law Ann. She also loves the Olympic National Park, Lake Ozette, and everything about the West End of Clallam County.